The Supernoobs Super Cup is the twenty-eighth episode overall of the Supernoobs and twenty-eighth episode of the season.
Synopsis
The Noobs decide to see who's the best of the group by competing in a series of events in the first ever "Supernoob Super Cup."
Plot
Memnock and Zenblock are relaxing outside while enjoying a glass of lemonade. Mem admires the butterflies, but Zen does not.
Characters
Locations
International Dates
Trivia
The Noobs play Slingshot Paintball for the first time since A Noob Hope.
The scene involving Mem and Zen relaxing on lounge chairs and drinking lemonade on a hot day is very similar to when they did the exact same thing in The Noobs Strike Back but instead of watching the Noobs fight virus monsters, they just relax and in the process, get pelted by several paintballs by the Noobs.
Goofs
Gallery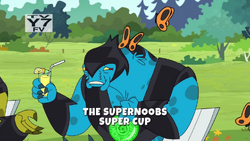 Click here to view the gallery.
Transcripts
Transcripts can be found here: The Supernoobs Super Cup/Transcripts
References
v

•

e

•

d

Super Noobs Episodes
Ad blocker interference detected!
Wikia is a free-to-use site that makes money from advertising. We have a modified experience for viewers using ad blockers

Wikia is not accessible if you've made further modifications. Remove the custom ad blocker rule(s) and the page will load as expected.