Personality
Ms. Bowman is Tyler's loving mother. Not very much is known about her except for the fact that she is a mother stereotype, asking Tyler to go outside and play in Go Noob Outside.
Tyler attempts to stop her from attending the parent-teacher conference in Parent Teacher Noobs.
Physical Appearance
She has blonde hair, like Tyler, accompanied by a pink headband and pearl earrings. She also wears a magenta collared button up shirt with a name tag and gray pants.
Trivia
Gallery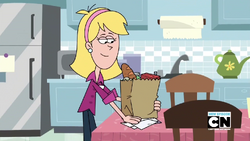 Click here to view the gallery.
Ad blocker interference detected!
Wikia is a free-to-use site that makes money from advertising. We have a modified experience for viewers using ad blockers

Wikia is not accessible if you've made further modifications. Remove the custom ad blocker rule(s) and the page will load as expected.