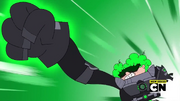 Elasticity, the ability to stretch, deform, expand, or contract one's body into any form imaginable.
Information
The user is or can become extremely malleable and elastic, allowing them to stretch, flatten, deform, expand, and contract their whole body, including limbs, torso, neck, etc. They can control how elastic/flexible they or parts of them are, allowing user to change their bodies into various tools or other constructs.
They are extremely hard to wound or hurt due to their body reflexively absorbing damage by stretching with attacks, but may still feel pain.
Known Users
Ad blocker interference detected!
Wikia is a free-to-use site that makes money from advertising. We have a modified experience for viewers using ad blockers

Wikia is not accessible if you've made further modifications. Remove the custom ad blocker rule(s) and the page will load as expected.